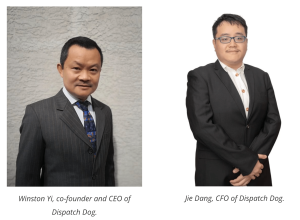 VANCOUVER– Canada is a very large country and getting things to where they need to go is an exceptionally challenging task. Delivery transportation networks face unique obstacles in this country and with so many variables in the industry, there is no easy, one-fit solution.
This is exactly what inspired Winston Yi to create his logistics software company Dispatch Dog.
"My impetus for founding the company was when my colleague, Jie and I were discussing how frustrating it was for products to be delivered in both Vancouver and Toronto, two of Canada's most densely populated cities," said Dispatch Dog CEO and Co-Founder, Yi.
"My background is in mapping software and route optimization, while my partner Jie's experience is more in logistics and finance," said Yi. "Between our two experiences, we were able to have conversations that allowed us to draw on our history and brainstorm solutions to this common problem."
Yi also brings extensive experience in operational and corporate management across the IT and consumer goods industries. The rest of the team comes from various backgrounds, with Chengrui Li serving as CTO, and Jie Dang on the financial side as CFO. Dispatch Dog's operations manager, Jane Deng and Project Manager, Wendi Wei, round out the five-person company staff.
As Yi looked further into the industry and conducted market research, he often heard from industry insiders that managing a fleet of delivery vehicles is tiring, expensive and difficult. Moreover, the ability to oversee the industry and accurately handle logistics was overwhelming and complex.
From these difficulties, Yi and his team decided to build a product to help. Dispatch Dog is on a mission to revolutionize the logistics software landscape by providing cutting-edge, tailored solutions to small and medium-sized logistics companies. The Dispatch Dog product is an all-in-one platform that gets real-time updates on shipment status, route and schedule optimization, and enhanced communication all in one easy-to-use place.
"I believe there is a considerable opportunity to target middle mile logistics companies in this country," said Yi. "The disparity of delivery infrastructure in Canada is significantly less than in many other countries and we really believe we can offer Canadians a more manageable and simplified approach to logistics, which would improve the lives of many."
As the team at Dispatch Dog scale up and drum up support and interest in Vancouver, Yi hopes to continue to perfect the platform and create positive change in the industry.
"We foresee our company doing well within the North American middle mile segment and the Canadian last mile segment," said Yi. "But, most importantly, we are excited to add value to Canada's citizens and ensure no deliveries are left in the dust."