New Policy Ensures Personal Protective Equipment Fits Female Workers Correctly
BRITISH COLUMBIA – WorkSafeBC focuses on helping employers create healthy and safe workplaces.
Employers are responsible for workplace health and safety planning, and this includes stressing the importance of proper fitting personal protective equipment (PPE). The issue of ill-fitting PPE is particularly pro-nounced for women working in traditionally male-dominated industries, such as construction, forestry, and firefighting.
Many women have reported experiencing reduced mobility, discomfort, and compromised safety due to PPE that is designed primarily for men. For this reason, effective November 2022, a new guideline was implemented to address the issue of ill-fitting PPE.
"We recognize that the differences in body shape and size between men and women can make it challenging to find PPE that fits properly," says Suzana Prpic, Senior Manager of Prevention Field Services at WorkSafeBC. "We want to make sure that all workers are protected and comfortable while on the job, and that means ensuring PPE is designed and fitted to accommodate a wide range of body types."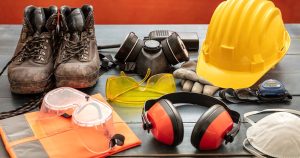 The new guideline incorporates recommen-dations from experts in the field, as well as feedback from workers and employers across BC to avoid the "don't just pink it and shrink it" concept. It outlines the requirements for the design, selection, and use of PPE that is ap-propriate for all workers and includes specific guidance on how to measure and fit PPE to a wide range of body types.
"We are committed to promoting a safe and healthy work environment for all workers," said Prpic. "This new guideline is an important first step in achieving that goal, and we encourage all employers to review and implement it in their workplaces."
Katie Youssefi, business writer coordinator of Prevention Services at WorkSafeBC notes that the issue was discussed at a recent 2023 Women in Safety Summit Canada meeting.
"One of the most interesting panel discussions of the day was about the need to be better at keeping women safe in the workplace — particularly when it comes to PPE," she states. "A November 2022 Canadian Standards Association report about Canadian women's experi-ences with PPE in the workplace found that, while some good work has been started, there is still more work to be done. For instance, even though the language used within the regulations is gender neutral, it's not inclusive and doesn't address women's needs."
The report also found some interesting statistics: 6 per cent of women say they were wearing PPE that was actually designed for them, while 51 per cent said their employer made an attempt to have PPE work for them. Unfortunately, 39 per cent reported having had an incident occur because of their PPE.
Panelists suggested several ways in which positive change could come about, including creating safe spaces where people can speak up about PPE issues, working collaboratively with stakeholders, finding gaps in the data to determine areas for further research, and putting a dollar amount behind the cost of doing nothing.
Workplace health and safety culture, proactive health and safety management, including reviewing PPE requirements for women, and health and safety performance are all interconnected. Building a strong health and safety culture will benefit workers, the bottom line, and public perception.
Business Examiner Staff