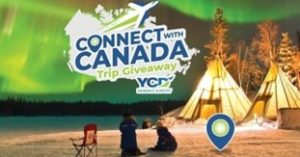 NANAIMO – The Nanaimo Airport is offering its 2nd annual Connect with Canada Trip Giveaway contest. This year, YCD is partnering with the Edmonton International Airport (YEG), Indigenous Tourism Alberta, and Spectacular Northwest Territories to offer an immersion in indigenous culture with a 14-night trip giveaway to the Edmonton and Yellowknife area.
Highlights of this uniquely Canadian experience includes indigenous-lead fishing, hiking, and storytelling tours. The winner will get to watch the night sky from the Sky Watching Domes at Métis Crossing and will have the opportunity to see the Aurora Borealis with 3 nighttime viewing excursions while in Yellowknife.
"We wanted to create a package that combines memorable adventures with cultural experiences and mesmerizing sights," explains Keith Granbois, Chief Financial Officer and Vice-President of Business Development for the Nanaimo Airport. "This is truly a made-in- Canada trip. It's a once-in-a-lifetime opportunity to connect with some of the experiences that make our country unique while supporting indigenous tourism."
The contest is a random draw beginning today, Tuesday, May 23 and running to June 30, 2023 and is open to residents of British Columbia.
The first week of the package is devoted to exploring life through the diversity of First Nations' and Métis peoples' histories, cultures, experiences, and perspectives. The second week focuses on the culture of the Dene in Yellowknife. All airfare, accommodations, and tour fees are included in the prize.
"Nanaimo Airport Commission is deeply committed to a new era of investing in reconciliation with First Nations," explains Granbois . "While we focus on the Stz'uminus and Snuneymuxw First Nations who are adjacent to the airport, we wanted Connect with Canada to honour other indigenous cultures too."
For information on entering YCD's Connect with Canada contest, visit www.connectwithcanada.ca
Last year the Nanaimo Airport ran a "Reconnect with Canada Coast-to-Coast" campaign, in partnership with Halifax airport. It earned international industry recognition as a finalist for an award for airport marketing, communications and customer experience.
Business Examiner Submitted