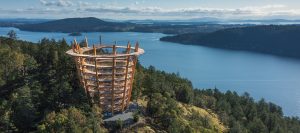 VICTORIA – Malahat SkyWalk has been recognized with a 2022 BC Tourism & Hospitality Award in the category of Innovation.
The 2022 BC Tourism & Hospitality Awards recognize and celebrate excellence, leadership, and innovation within British Columbia's tourism and hospitality industry, showcasing the province's most exceptional leaders and positive change-makers.
"Malahat SkyWalk has quickly become a marquee tourism asset for both British Columbia and Canada, and we are honoured to be recognized for our innovation," says Ken Bailey, General Manager, Malahat SkyWalk. "Not only does Malahat SkyWalk's physical structure and experience demonstrate innovation, but more importantly we are proud to have a strong relationship with the Malahat Nation and be contributing to reconciliation through tourism with our partnership."
"Malahat SkyWalk encompasses the foundational pillars for circular economic success," adds Angela van den Hout, Director of Economic Development, Malahat Nation. "It is environmentally sound, socially proactive, and honours the lands, its people, and culture. The project sets the bar high for future development projects within Malahat's traditional territory."
Malahat SkyWalk has welcomed over 150,000 visitors since opening July 15, 2021, exceeding all goals and estimations. Local support for the project has been strong from the start, with Indigenous and community partnerships and over 1,000 annual passes sold prior to opening alone.
"Malahat SkyWalk invested in developing a new visitor experience in British Columbia at a time when the economy was challenged by a global pandemic," continues Bailey. "It was extremely important to us to support the local economy and 90 percent of our budget was spent in BC. Taking a long view, we are contributing to the sustainable, long-term recovery of BC's tourism industry. We are giving future travellers a new reason to visit and stay longer, and offering locals another exciting day-trip destination."
The engineering and construction of Malahat SkyWalk is the first of its kind in Canada. A 600 metre-long elevated walkway transports visitors to a 10-storey, architecturally-inspiring spiral tower lookout 250 metres above sea level, providing breathtaking 360-degree views. An adventure net and 20 metre spiral slide offer further innovation for the enjoyment of daring guests.
In addition, Malahat SkyWalk was built with a commitment to be accessible by all ages and a wide range of abilities; ensuring access to nature for the very young in strollers to those who may need the assistance of walkers or wheelchairs. It is located on the traditional and ancestral territory of the Malahat Nation and their Indigenous culture is embedded in the natural environment and visitor experience.
The 2022 BC Tourism & Hospitality Awards were announced and presented at an awards gala on Thursday, March 10, 2022, as part of the 2022 BC Tourism & Hospitality Conference hosted by the Tourism Industry Association of BC and British Columbia Hotels Association.