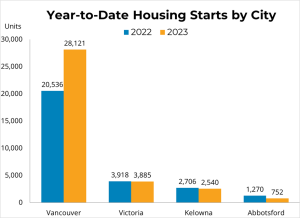 BRITISH COLUMBIA – Canadian housing starts rose 1 per cent to 274,681 units in October at a seasonally adjusted annual rate (SAAR). Starts were up 4 per cent from the same month last year.
Single-detached housing starts rose 5 per cent from last month to 59,911 units, while multi-family and others rose 1 per cent to 214,768 units (SAAR).
In British Columbia, starts jumped 50 per cent from last month to 60,174 units SAAR in all areas of the province. In areas in the province with 10,000 or more residents, single-detached starts were unchanged from last month at 5,588 units while multi-family starts surged 65 per cent to 51,813 units.
Starts in the province were 33 per cent above the levels from October 2022. Starts increased from last month by 9k units in Vancouver, 6.2k in Victoria, 2.9k in Kelowna, and 2.2k in Abbotsford. The 6-month moving average trend in BC fell by 0.3 per cent to 50,887 SAAR.