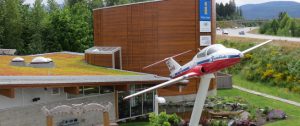 COMOX VALLEY – The Comox Valley Regional District (CVRD) has taken a big step forward in defining the future of destination marketing and tourism services in the Comox Valley.
Six months after issuing a notice to terminate the contract between the CVRD and the Comox Valley Economic Development Society (CVEDS), these parties have now entered an agreement that transfers ownership, outstanding mortgage and title of the Vancouver Island Visitor Centre to the CVRD.
Tourism Vancouver Island will continue to operate the centre at 3607 Small Road in Cumberland and deliver destination marketing under contract. This is an important step to ensure the visitors to the Comox Valley can continue to access first-hand information on the accommodation, food and beverage services, activities and attractions offered in the region.
"The CVRD is working closely with Tourism Vancouver Island to ensure people visiting our beautiful region continue to receive these important services," explains CVRD Board Chair Jesse Ketler. "Supporting our tourism sector, local businesses and the public is a top priority as we move forward, particularly coming out of COVID-19 restrictions and supporting community recovery."
CVEDS was formed in 1988 and provided economic development services to the Comox Valley including tourism and visitor services. The Vancouver Island Visitor Centre, including the Snowbirds Tutor jet, was an initiative that CVEDS undertook for the community. For thirty three years, CVEDS has played an important role within our community.
This transition of tourism and visitor services delivery builds on the years of work that CVEDS provided to the community and indicates the ever evolving and changing needs of the Comox Valley.
Earlier in 2021, the CVRD Board chose to terminate the contract for services with CVEDS, and begin a service review of the CVRD's economic development service. The service review is ongoing and will determine the future of economic development, tourism and visitor services in the Comox Valley. As well, the review will look at how the service may be funded through local and provincial funding opportunities.
More information on review results and next steps will be communicated in the coming months.